You are here:
Products


HD-1 Damping TPE
HD-1 Damping TPE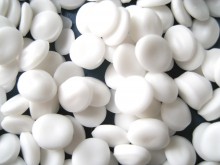 NB-1 does not contained Tin or Organotin, NB-1 meets EU standard, foam products made out with NB-1 does not harden significant during winter cold condition
HD-1 TPE Damping cell for slow recovery after impact

HD-1 is a impact absorbent pellets containing abilities for

absorbing vibration and high energy impact. It can be mix

with varies types of plastic rubber mixture or apply into all

types of thermoplastic rubber and synthetic resin for

absorbing impact, reduce and lowering vibration.

- HD-1does not contained Tin nor Organotin which met the requirement of EU and other world renowned brands.
- HD-1 added foam products hardness will not increase much under low temperature environment. Its impact absorption ability perform excellently at room temperature of 25°C.
- HD-1added foam products can provide great recovery rate (compression set) after high energy impact.
- HD-1is able to intake higher filler filling quantities, while retaining its excellent impact absorption ability.
-In order to achieve full properties or our TPE modifier, adding a small portion of our VG-301 crosslink additive is recommended.
Form:Pellets
Color:Natural (white)
Packaging:25 kg / bag

HD-1 TPE damping cell is applicable to sporting goods, shoe wear, protection gear, electronic components, high techequipment, packaging, physical therapy, and sound equipment etc. More recommendation can be TPR sole, sports TPR sole, injection TPR sole, or Yoga mat TPE. This HD-1 TPE damping cell works especially well with EVA pellets and PE pellets to create very effective shock absorbent material. Other fields of raw materials application for reference: rubber raw materials, plastic raw materials, and chemical raw materials. We guarantee that adding our TPE materials will make a difference in performance for absorbing impact, reduce and lowering vibration.

     Test properties

        unit

    Test Standard

        Value

MI(190oC@2.16kg)


g/10min

ASTM D1238

1.0

Density

g/cm

3

ASTM D792

1.33

Hardness


Shore A


 ASTM D2240

 66±2

Tensile Strength

 kg/cm

2

 ASTM D412

85

Elongation

 %

 ASTM D412

 180

Tear Strengrh

kg/cm

ASTM D624 

39

Softening Point 

o

C

 ASTM D1525

95-105 
Note: The above properties data are reference only

SGS certified of Eight Heavy Metal free (Report No. TE/2019/30123)

- Keep in cool place with no direct Sun light and store it at temperature below 50°C.
- Keep out of fire and heat source.