You are here:
TPE composite materials

Composite material GSE-38
Composite material GSE-38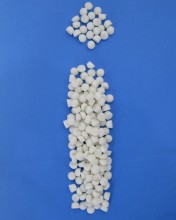 Can be added into EVA raw materials, EPDM, POE, LDPE in getting variety of mechanical properties for them
GSE-38: TPE modifer for heat shrinkage resistance and

compression set performance

GSE-38 is a thermoplastic elastomer excellent for heat shrinkage

resistance and better compression set performance. Can be added

with varies types of rubber compound mixture.

- GSE-38 has elasticity, softness, and good touching feeling of rubber.
- GSE-38 has adhesive ability that will not be reduced by increase in quantities applied.
- GSE-38 has great compatibility with EVA, LDPE, POE, EPDM...etc to achieve varies physical properties of products.
- GSE-38 has ability to improve and enhance products heat shrinkage resistance, compression set, increase rebounding ability, added quantity can be adjusted to meet customers' desired physical properties.
- In order to achieve full properties of our TPE modifier, adding a small portion of our VG-301 crosslink additive is recommended.
Form:Pellets
Color:Natural (white)
Packaging:25 kg /bag

     Test properties

        unit

    Test Standard

        Value

MI(190

o

C@2.16kg)


g/10min

ASTM D1238

0.8 - 1.3

Density

g/cm

3

ASTM D792

0.95 - 1.15

Hardness


Shore A


 ASTM D2240

 60±2

Tensile Strength

 kg/cm

2

 ASTM D638

38

Elongation

 %

 ASTM D638

 820

Tear Strengrh

kg/cm

ASTM D624 

23

Softening Point 

o

C

 ASTM D1525

95 - 100 
Note: The above properties data are reference only

Suitable for shoe materials, packaging materials, artificial leather and other products.

1. SGS 8 Heavy Metals Free, Report TE/2010/07338
2. SGS Halogen Free, Report TE/2011/20113
3. SGS Heavy metals, PAHs, Phthalates…free, Report KE/2015/31597

Keep in cool place without being exposed to direct sunlight and store it at temperature below 50°C.
Keep out of fire and heat source.