You are here:
TPE composite materials

Composite material GSE-48
Composite material GSE-48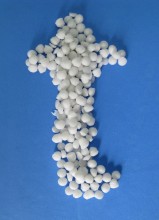 Having softness and properties similar to rubber raw materials that can be added into EVA material and LDPE material for obtaining rubber like properties and its touching feeling
GSE-48 TPE modifier for rubber imitator

GSE-48 is a TPE modifier developed for seamlessly blending with

EVA and PE to replace the original function of synthetic rubbers

in its place of formulated mixture in peroxide crosslink foaming method.

GSE-48 has the same effect and properties as those of synthetic

rubbers, where GSE-48 not only modify and enhance the mixture

but exceed the desired effect of the synthetic rubbers thus create

more value for your products.

1. Improves cold and heat endurance of foaming products.

2. Improves rebound and achieve rubber like flexible touching feel of foaming
products.

3. Improves compression set performance of foaming products.

4. The more amount of GSE 48 added, the more effect it achieves, such as
rubber like tensile, elongation recovery, gains slip resistance, improves
surface wrinkle resistance.
5. In order to achieve full properties of our TPE modifier, adding a small portion of our VG-301 crosslink additive is recommended.
Form :Pellets
Color :Natural (White)
Packaging :25 kg / bag

     Test properties

        unit

    Test Standard

        Value

MI (190oC@2.16kg)


g/10min

ASTM D1238

0.1 - 1.0

Density

g/cm

3

ASTM D792

0.95 - 1.05

Hardness


Shore A


 ASTM D2240

 46±2

Tensile Strength

 kg/cm

2

 ASTM D638

25

Elongation

 %

 ASTM D638

 1081

Tear Strengrh

kg/cm

ASTM D624 

18

Softening Point 

o

C

 ASTM D1525

60 - 65
Note: The above properties data are reference only


Applicable to your original formula by replacing synthetic rubbers such as IR, EPDM, BR, SBR, and POE in equal amount Saves the usage of synthetic rubber, and simplifies processing.

SGS certified of PAHs & 14P free (Report No. TE/2014/70099R1)

Keep in cool place without being exposed to sunlight and store it at temperature below 50°C.
Keep out of fire and heat source.