You are here:
TPE composite materials

HD-1 Damping TPE

Products

HD-1 Damping TPE
HD-1 Damping TPE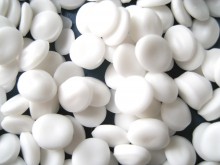 NB-1 does not contained Tin or Organotin, NB-1 meets EU standard, foam products made out with NB-1 does not harden significant during winter cold condition
HD-1 TPE Damping Cell Rubber for slow recovery after impact

HD-1 is a impact absorbent pellets containing abilities for

absorbing vibration and high energy impact. It can be mix

with varies types of plastic rubber mixture or apply into all

types of thermoplastic rubber and synthetic resin for

absorbing impact, reduce and lowering vibration.

1. HD-1 foam sheet test G-Value = 6, energy return = 2% (SATRA TM142:1992@25℃)

2. The shock absorption ability performs nicely under room temperature 25°C.

3. The foamed product obtains good recovery after going through high impact.

4. Owns high filler capacity when adding fillers, and still maintain excellent shock absorption ability.

5. Easy processing, easy recycling of scraps and has excellent cost performance.

6. Main compound for foaming for low compression set, low density slow rebound, shock absorption function.
7. In order to achieve full properties or our TPE modifier, adding a small portion of our VG-301 crosslink additive is recommended.
Form:Pellets
Color:Natural (white)
Packaging:25 kg / bag

1. Foaming Hardness 10 - 15C: Sports protective equipment.
2

Foaming

Hardness 15 - 25C: Shape memory foaming.
3.

Foaming

Hardness 30 - 40C: Hockey, baseball protective equipment, etc.

     Test properties

        unit

    Test Standard

        Value

MI (190oC@2.16kg)


g/10min

ASTM D1238

2.86

Density

g/cm

3

ASTM D792

1.20 - 1.30

Hardness


Shore A


 ASTM D2240

 75±2

Tensile Strength

 kg/cm

2

 ASTM D638

44

Elongation

 %

 ASTM D638

140

Tear Strengrh

kg/cm

ASTM D624 

35

Softening Point 

o

C

 ASTM D1525

100 - 105
Note: The above properties data are reference only

SGS certified of Eight Heavy Metal free (Report No. TE/2020/10019)

- Keep in cool place without being exposed to direct sunlight and store it at temperature below 50°C.
- Keep out of fire and heat.