You are here:
TPE composite materials

Composite materials GSE-101
Composite materials GSE-101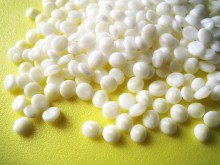 GSE-101 is TPE modifier for hardening materials, hardening products for injection, foamed products got high magnification ratio where it will not necessitate for mold adjustment, wooden like properties that can replace some usage of wood thus reduce unnecessary logging
GSE-101 TPE modifier a versatile hardener with

multiple mold shape possibilities

GSE-101 is a hardener thermoplastic compound pellets,

it is designed to apply as the hardening material for injection

and foaming products, a versatile material where you can

shape them into your desired curve and form, with wooden

like hardness in ability to mold shape your products

where wood cannot achieve due to its physical limitation.

In addition in using GSE-101 you won't need to adjust the

molding to prevent the rate of size change that caused by

foaming.

- GSE-101 has simulated to be close as wooden material for replacing usage of actual wood to reduce lumbering forest thus meet the trend of eco-friendly materials.
- GSE-101 is light weight, high level of hardness, waterproof, aging resistance.
- GSE-101 is highly compatible with glass and carbon fiber materials, it can be apply to high economic value-added products.
- GSE-101 processing temperature is about 100 to 110 degrees. Completed foam products will have greater magnification, high level of hardness, low density and low shrinkage rate. Much better in bonding in comparison with LDPE, HDPE and POE.
- GSE-101 is free of halogen and eight heavy metals.
- In order to achieve full properties of our TPE modifier, adding a small portion of our VG-301 crosslink additive is recommended
Form:Pellets
Color:Natural (white)
Packaging:25 kg /bag

     Test properties

        unit

    Test Standard

        Value

MI(190oC@2.16kg)


g/10min

ASTM D1238

2.0~3.0

Density

g/cm

3

ASTM D792

0.94~0.98

Hardness


Shore A


 ASTM D2240

 100±2

Tensile Strength

 kg/cm

2

 ASTM D412

119

Elongation

 %

 ASTM D412

 360

Tear Strengrh

kg/cm

ASTM D624 

69

Softening Point 

o

C

 ASTM D1525

120-125 
Note: The above properties data are reference only

GSE-101 is applicable to construction, physical therapy equipment, or large harden sole. This TPE modifier work especially well with EVA pellets and PE pellets, GSE-101 has a capability to provide higher foaming expansion ratio yet still provide hardening effect for the targeted material. Other fields of raw material application for reference: rubber raw materials, plastic raw materials, and chemical raw materials. We guarantee that adding our TPE materials will make a difference in performance in acting as hardener with greater magnification, high level of hardness, low density and low shrinkage rate.

SGS certified of Eight Heavy Metal free (Report No. TE/2013/A0003)
SGS certified of Halogen free (Report No. TE/2011/30104A1)

- Keep in cool place with no direct sunlight and store it at temperature below 50 degrees.
- Keep out of fire and heat source.