You are here:
TPE composite materials

Composite material GSE-46
Composite material GSE-46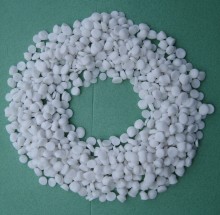 GSE-46 can retain rubber raw materials good touching feeling with comfort and resiliency in other words better rebounding ability, unaffected adhesive ability that will not be disrupted when quantity added is increased
GSE-46 TPE modifier for high rebound &

heat shrinkage resistance

GSE-46 is a TPE modifier developed for creating high

rebounding ability, cold endurance for maintaining materials

elasticity under cold temperature, superior heat shrinkage

resistance and great compression set performance.

- GSE-46 possessed elasticity of rubber and great touching feeling.

- GSE-46 adhesive ability will not be effected by increased quanitity used.

- GSE-46 can apply with EVA, LDPE, POE, and EPDM etc. to achieve different product properties.
- GSE-46 improves heat shrinkage resistance ability, creates better compression set
performance, and elevates rebounding ability of the foam products.
- In order to achieve full properties of our TPE modifier, adding a small portion of our VG-301 crosslink additive is recommended.
Form:Pellets
Color:Natural (white)
Packaging:25 kg / bag

     Test properties

        unit

    Test Standard

        Value

MI(190oC@2.16kg)


g/10min

ASTM D1238

4.0 - 5.5

Density

g/cm

3

ASTM D792

0.95 - 1.10

Hardness


Shore A


 ASTM D2240

 60±2

Tensile Strength

 kg/cm

2

 ASTM D638

27

Elongation

 %

 ASTM D638

 1219

Tear Strengrh

kg/cm

ASTM D624 

21

Softening Point 

o

C

 ASTM D1525

100 - 110
Note: The above properties data are reference only

Mats, footwear materials, packaging materials.

SGS certified of 14P and PAHs free (Report No. TE/2015/40265A1)
SGS certified of 8 Heavy Metal free (Report No. TE/2015/40265A1)

Keep in cool place without being exposed to direct sunlight and store it at temperature below 50 degree celcius.