K 2019 kicks off: plastic shapes the future
資料來源:MacPlas http://www.macplas.it/it/al-via-il-k-2019-la-plastica/17947
Wednesday, 16 October 2019
(Reference translation as below)
K 2019 kicks off: plastic shapes the future
FOR EIGHT DAYS ALL IN DÜSSELDORF
K 2019 opens today in the Düsseldorf exhibition center, which will close its doors on October 23rd. For eight days, the world's leading trade fair for the plastics and rubber industry will represent the barometer of market trends and technological trends in place for all operators in the sector. More than 3,300 exhibitors from more than 60 countries will be staged on around 178 thousand square meters of net exhibition space. About 200 thousand visitors from all over the world are expected on the banks of the Rhine.
The fair proposes a dialogue on the most important topics for plastics and rubber, calling the representatives of politics, industry, economics, science, academia and society to the motto of "Plastics shape the future" . The 2019 edition of the K pays particular attention to the conservation of resources, digitization, functionality, renewable energy, circular economy and sustainability.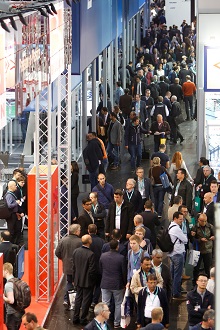 There will be a debate on thorny subjects such as plastic waste in the oceans, the use of disposable plastic packaging and the use of limited resources for production. All this will be animated, through conferences, round tables and programmatic meetings, by experts in the sector, who will exchange information, opinions and ideas on the economic, social and environmental challenges and possible solutions in every area.
And then lots of technology and innovation in every field of the supply chain, divided into different exhibition categories, from raw materials to processing plants, from machines to process auxiliaries, from semi-finished products to finished products, from services to scientific research.
The proposals from the large multinationals with offices and production sites around the world, as well as from the small-medium enterprises that make up the economic fabric of many countries, will offer a menu capable of satisfying all tastes and different needs.